10/9/18
A little over 4 years ago my family and I had the pleasure of bringing home a phenomenal puppy Frankie. I first saw him on line as a member of an OEB Facebook Forum Page, we instantly fell in love with him. After making contact with Janae of Legendary Bulldogges, it became instantly apparent I was dealing with a caring, passionate individual who ensures her dogs are of top quality, I continued to make contact with Janae via Facebook messenger as I lived in Canada and Janae is situated the States. Janae's promptness to investigate my background and if I had any previous experience with such a Breed was the forefront of our conversation. This immediately gave me confidence I was dealing with an individual that was breeding for the dogs and not for money. During an estimated time of around 4 months Janae was keen to send me videos and photos of Frankies progress and we regularly called her for updates. The time had come finally when we could collect Frankie, Janae's concerns as we're mine that flying Frankie unaided was not an option, so we decided to drive to Montana From Alberta Canada, a relentless 10 hour drive, Janae's consideration for both our family and Frankie was that she would meet us in Montana to save us a further drive to Idaho. I was enthralled by this very kind gesture, and again deepened our confidence we were dealing with a truly amazing person. We finally picked up Frankie and I couldn't help but notice Janae had confirmed a huge bond with Frankie and was apparent she would be sad to see him go. A good decision I hope Janae stands by to this day. Frankie has been an absolute delight and a blessing to our family, he possessed a wonderful disposition and he is extremely gentle and generous with his affection. I've been able to over this past 4 years to maintain a good relationship with Janae at legendary Bulldogges, for advice and general development of this fine Dog. I have since moved from Canada back to the U.K and without question Frankie was coming with us together with his adopted Brother Gus. A decision not taken lightly. Even with this decision to fly him to the U.K I was able to correspond with Janae to ask for her advice and expertise on the safety of Frankie during his trip. Thanks to Janae his safe passage was a complete success. I would like to thank you Janae from myself and my family for all of your tremendous work and support you've given us throughout the year's. Frankie continues to live a very happy and well traveled life. So thank you dearly from us all, but most of all from Frankie.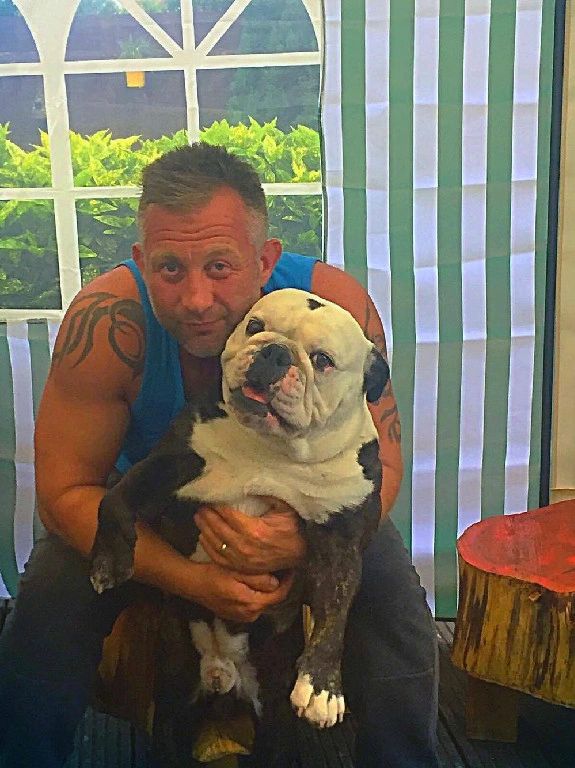 I just wanna thank you for our girl Jayda she's a huge joy to my heart and our entire house hold! My experience with you as a breeder has been a pleasure, you not only kept in contact with me through phone calls, texts, videos and Facebook with all my silly needs and questions up until she made it home to us and then after you went above and beyond to help me get exactly what I was looking for in a pup! Thank you so much JaNae!! Missy from Louisianna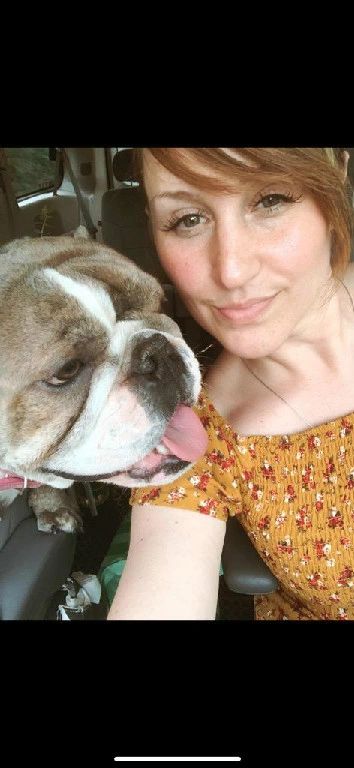 8/26/12
JaNae,
Thanks for keeping us informed on everything while we were waiting for our puppy Bowser. You made the whole experience easy, comfortable, and exciting. We will be sure to call yo
...
u again when we are looking for a bulldog.
Bowser is such a great puppy. He is full of personality, a little snuggler, great with kids, and he listens so well. Our other bulldog Biff is like a dad to him. They get along great, and play like bullies together. Not to mention, Bowser is a handsome guy. He gets comments on his black tri-color looks, and big personality everywhere we go. He is everything we hoped for and so much more!
Today Bowser is 6 months old, 35 lb 15" tall, and a great puppy. We have had him in an obedience class with 9 other dogs. He is ahead of all the others and the star of the class. Thanks again for such a tremendous dog! He really is incredible. Not just cause he's ours. He's so well mannered and smart. Can't thank you enough. I hope you will always breed them. We are life long customers.
We'll keep in touch,
Scott and Amy B
5/4/12
I want to sincerely thank you for making my husband's dreams come true; he has wanted a bulldog
forever. We got our little girl Fergie (Brindle pup on right) in March 2012 to add to our family (Kailee 5, Karson 4 and our 2 year old Boston Terrier Fiona) and she has fit right in. Fergie and Fiona play all day long and they snuggle
up together to take little naps, it is the sweetest thing ever. My husband was so jealous of the bond that
I shared with Fiona... but now when he comes home in the morning after working night shift Fergie is
sitting by the door waiting and wagging her little stump!! We couldn't have asked for a better breeder,
we LOVED watching the baby puppies on the puppy cam, receiving updates and getting pictures of her
emailed to us. Fergie is so entertaining to watch, she is so clumsy right now but there isn't a trick she
won't try to get just one more treat. I am proud to say that now she has 100% mastered the dog door.
(Yay) Any time we take Fergie anywhere heads turn, she is so beautiful
with those big puppy dog eyes!
Everyone is so in love and they always want to know where we got her.
I included this picture even though it is a little blurry it shows this little sneaker is always doing
something...
Thank you so much JaNae for helping us complete our family!




3/12/12

JaNae,
We wanted to send you a note to let you know that we really enjoyed working with you throughout the
process of us getting our new family member, Ozzie!! We couldn't have asked for a nicer puppy. He is
beautiful and such a little sweetheart!
Jeff and I have always wanted a Modern English Bulldog. We started searching the internet for
breeders last summer and came across your website. As we were reading about the history of the
Olde English Bulldogge breed and your breeding ethics, we were very impressed! The Olde English
Bulldogges appear to be a much healthier breed than Modern English Bulldogs. We really like the fact
that you are upholding the integrity of the breed with your breeding ethics and also stand by your
product (puppies).
We will be celebrating our 25th wedding anniversary in May. Jeff is currently working in ND in the oil
fields. It is very hard to try and plan a trip, for our anniversary, with his crazy schedule. Therefore,
we decided to treat ourselves with Ozzie, for our anniversary gift. Although, Jeff says that Ozzie is his
dog…….I guess I can let him think that since he got to pick the sex and the name of our puppy! (You
probably would never guess that Jeff is an Ozzy Osborn fan, LOL??)
Thanks again for a wonderful puppy and experience! We really enjoyed the puppy cam and pictures so
that we could watch our little Chunkzilla grow until we could actually bring him home! We will definitely
recommend you as a breeder when we have people inquire about where we got Ozzie.
Congratulations on the upcoming birth of your baby! Best of luck to you and your family!
Sincerely,
Jeff & Tresa Neville from Missoula MT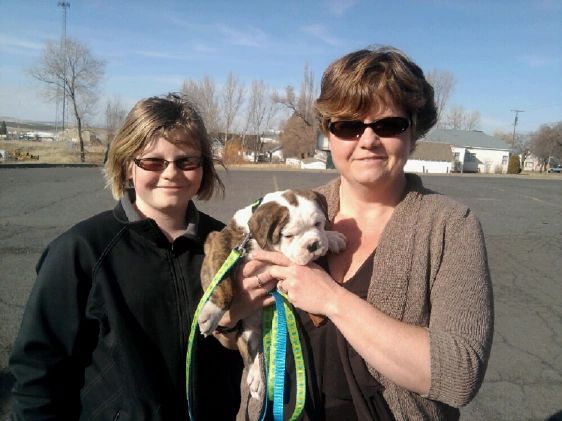 September, 2011
This little guy is Willie (William Turner). We are very blessed to have him in our lives to help with therapy for our two special needs boys. He is so full of life and such a good boy. He is a fast learner and is very loving towards all children. He loves playing with dogs and cats.
This has definitely has been a very positive experience for us with the the help of the breeder JaNae. She always sent us videos and pictures of Willie as he grew. We were always informed on what was going on with him. When we went to pick him up there were no questions that weren't answered. We would definitely recommend JaNae as a breeder to others.
The Ellingsworth Family from Richland, WA.
TANK AND DOZER September, 2011
I just wanted to write an update on our two little dudes Tank and Dozer and how amazing they are and how awesome they are doing!!! If it wasn't for JaNae we would never have such an amazing pair of guys to have in our family and me and my wife couldn't of found a better breeder of these wonderful dogs others werent half as good as JaNae. She kept us informed non stop on anything that went on with our little guys from calling to sending us pictures, I would highly recommend this wonderful lady to get your Bulldogges from cause she cares more for them then the money and how you as a person feel about your dog... So thank you JaNae and me and Amanda are as happy as can be and can't wait to get our little girl when she comes into this world.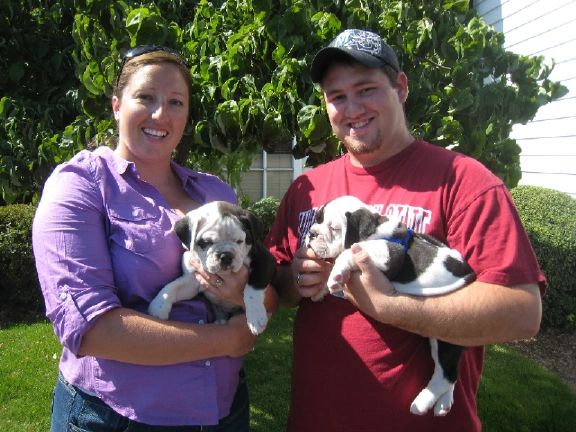 06/30/2011
I wanted to get you updated on Kollsin ((Dog on Right)) ( Cole for short ) hes just about 50 lbs now and such a blast to play with, him and Kairos are best buddies and do everything together so everything worked out great for us. After you had explained what the color "seal" was I think your right, underneath his black is a dark brick red/brown color that really stands out in the sun and his eyes are greenish / hazel. He's a great pup, very loyal and a great listener, He can do the normal sit and down and is getting walking on a leash down pretty quick.
Thanks again for the great dog, hes been a great addition to the family!
Josh