LEGENDARY BULLDOGGES JACKSON
This beautiful blue and white boy has the most awesome gentle temperament you will ever see. He is a super sweet boy and just loves everyone. He just turned 1 in June so he still has a lot of filling out to do. He is super healthy and has been hip tested and the vet said he has some of the best hips in a bulldog he has ever seen. Jackson is the son of Spellbound (check her out on my Dams page) and 7 Acres Honor Code, and grandson of Jewel and Smurf (check out Smurf on my studs page).


SMURF
Smurf was an awesome boy! He was super bully and sweet! I have a few dogs still here that are passing on Smurf's blood.

Red Dogs Guiness Stout aka Guiness


Reddogs Guiness Stout.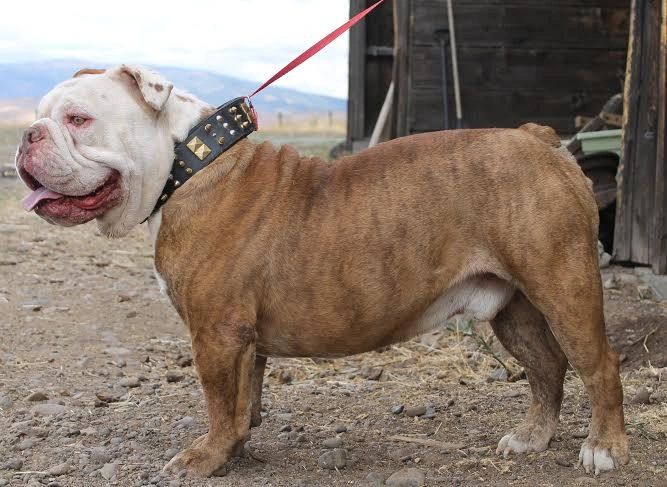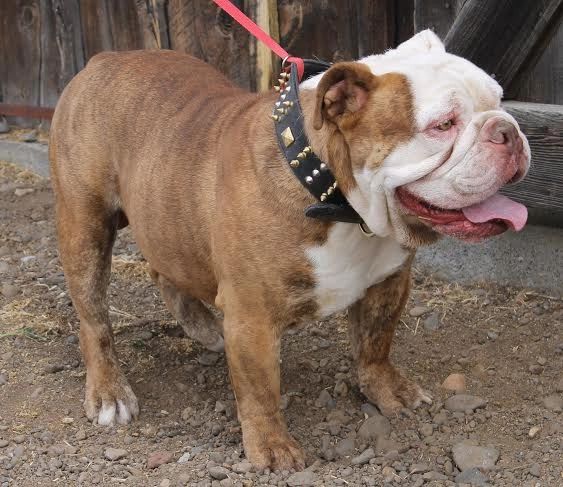 Guiness was an awesome boy! We have a few dogs that have his blood and will be passing it on. His daughter is Harlequin and grandaughter is Zelda. GUINESS DNA PROFILE IS bbDd which means he is chocolate color, and is a blue carrier, black, and a tri carrier so that makes him a quadruple carrier. All of Guiness offspring will carry chocolate 100% of the time and can produce chocolate, blue, blue tri, black tri, and lilac, and lilac tri offspring. Guiness has been hip tested and has sound hips.

Height: 18''
Weight: 83 lb
Head width: still growing
Guiness has the most laid back temperament and loves to please everyone. I can trust him with any dog and he is great with children. Guiness has the thickest bone I have ever seen on an Olde English Bulldogge ever. His legs are thick as tree trunks. He is a completely free breather and his hips have been tested and are sound. His legs are nice and straight and his is whole body is nice straight and thick. His head is nice and large and his nose is very bully and pretty smashed but not so much he has breathing issues. He has nice wrinkles and is sure to pass that on to his pups. His eyes are nice and tight too. He stands at 18 inches and is 83 lb. This boy is a beast and he has proven himself in every litter he has sired! He throws himself consistently in his puppies and we can be proud of him on that! If a stud doesn't throw consistency and produce pups that are just like him or better it is not an ideal stud in my opinion. Consistent, thick, bully pups is what Guiness has proved himself and with many different colors!

SMURF
SMURF IS NO LONGER AVAILABLE FOR STUD SERVICE.



FOR INFORMATION ON STUD SERVICE PLEASE CALL OR TEXT JANAE AT 208-230-3517. I AM AN EXPERIENCED IN FRESH COOLED SHIPPING AND CAN PROVIDE REFERENCES.